Ashridge Boarding Cattery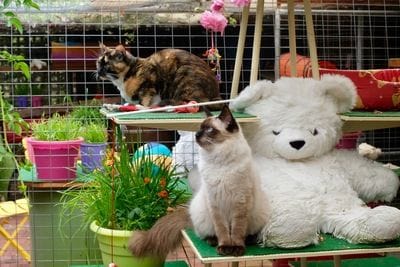 With over 40 years experience, our Treeby (Near Canning Vale) cattery offers your feline friend the best possible care in a safe environment, enabling you to enjoy your own holiday with complete peace of mind. Our convenient central location in Treeby, close to Cockburn, Piara Waters, Harrisdale and Canning Vale makes it easy for you to drop off and pick up with ease. From kittens to elderly cats, we can accommodate cats of all sizes, health issues and personalities.
No one provides more attention than we do to your cat's safety, entertainment and comfort.
Accommodation from only $17 per day!
We offer:
Walk-in style cat pens of varying sizes which are all fully roofed and securely fenced.
They can accomodate 1 to 2 cats, and the larger ones are big enough for up to 4 cats
Cattery Accommodation Facilities
Raised, private sleeping area in each pen.
Beds and bedding supplied.
Microwaveable heating pads for the very elderly cats in our care.
Feline Exercise Facilities:
4 very large garden style exercise areas, .
All these cat exercise areas overlook garden, or garden beds.
Lots of tunnels, sunning platforms, climbing ramps and cubby houses for your cats to play in
Cat grass supplied..
Our cattery exercise areas are designed to offer a stimulating environment combined with loads of activities suited to all feline tastes. The added health and safety benefits of fresh air and cat grass ensure that even the fussiest of felines will be able to enjoy their times in the playpens.
Safety and Health:
Here at Ashridge Cattery the safety of your beloved pet is at the very top of our priorities.
Cleaned from top to bottom with fresh trays daily.
Our facilities have safety alleyways which are cat proofed with clips on all gates..
There is plenty of natural shade in summer, more sun available in winter.
From specialty diets to daily injections, we can accommodate almost any health challenges and procedures your cat might require.
Click to read our Vaccination Policy: (opens in a new tab/window)
Pricing:
Boarding Fee of
only $17.00
for the first cat,
$16.00
for the second cat per calendar day. Refer to our Pricing for 2019 on the
Other Services and Pricing Page
Our rate is inclusive of any menu items shown on our Cat Menu. If your cat has specialty food, you need to bring that along and we will be more than happy to feed them whatever you supply.
Click here to download the
Ashridge Cat Menu
.(opens in a new tab/window)
We would love to show you through our facilities so please, feel free to come and see for yourself, during our business hours.
Check out Elly keeping her claws in good order below, and Lewis with his friend relaxing at Ashridge...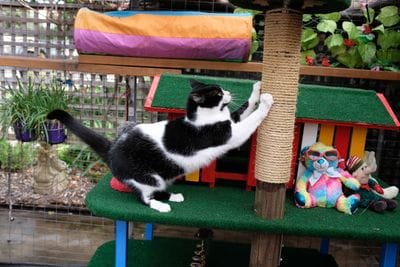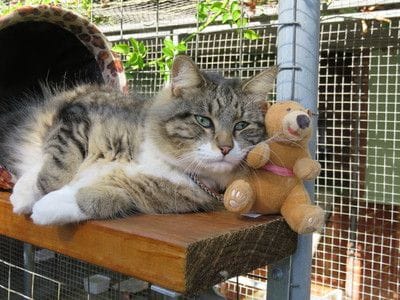 | | | |
| --- | --- | --- |
| | | |
| | I have been taking my three cats that I've had over the last 20 years to Ashridge and have always been so impressed with the level of care and interest. The staff treat each pet as individuals and they genuinely love the animals in their care. Recently took my dog for his first ever stay and was a bit worried as to how he'd cope. Linda kept in touch by text and assured me he was fine. I loved the photos of the pets on Facebook. Lovely clean accommodation and gardens. Thanks to Linda, Sue, Candice and the other ladies. | |
| | Inge Rozsa, | Cottesloe |