Dog Boarding Kennels
We have Big Dog Kennels and Small Dog Kennels, which are totally separate facilities under large shady trees with fully reticulated exercise areas, in a garden setting
Come and see our Pet Accommodation located in Banjup (renamed Treeby) for yourself!
Big Dog Kennels:
12 Big Dog Kennels
Fully Roofed
Built large enough to allow multiple dog families to have their dogs together.
All kennels have:
Automatic water bowls filling with fresh, clean water set at a suitable height
2 types of beds available, trampoline or fibreglass oval-shaped beds with bedding supplied
4 very large, grassed and paved exercise yards. Dogs are exercised several times per day. No extra charges.
All dogs are hydro- bathed, dried, brushed and combed before going home. It's part of the boarding fee!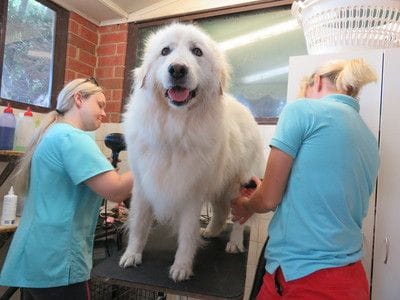 Small Dog Kennels:
12 Small Dog Kennels, fully enclosed tiled indoor sleeping sections, go through doggy-sized doorways to outside, fully roofed concrete areas leading out to grassed exercise areas.
24/7 radio in the indoor section, as most Small Dogs are 'inside' dogs, and it helps them settle.
3 large exercise areas, 2 grassed and paved.
Small Dogs love cuddles and playing in small groups if suitable.
Fibreglass oval beds and bedding, plastic high-sided beds and bedding are supplied.
Lots of mental stimulation, cuddles and exercise is free at Ashridge.
Automatic waterers, set low for easy access, fill with fresh, clean water.
All small dogs can see each other, and gain comfort from that.
Come and inspect our facilities...
| | | | | |
| --- | --- | --- | --- | --- |
| | | | | |
| | | We have used Ashridge off and on over the last 10 years for boarding and grooming. They are so consistent in their care, love and attention they bestow on your fur babies. The cats get turns at sharing an amazing cat run. The dogs have big indoor outdoor living areas with regular play dates with other like minded sized dogs. They are given so many cuddles and kisses whilst they are there that I can't help thinking that they are vacationing too! Thank you Linda, Sue and your wonderful team. You work hard, your place is immaculate and full of love making it easier for us to leave them from time to time xxxx | | |
| | | Petie Congo West Leederville. | | |